Teachinguide App Features for Students
Let's take a look at exactly how the Teachinguide App will benefit you.
Free Courses - Learn more for less on a daily basis.
Get access to almost 10'000 free courses on Udemy immediately for free learning.

Get new free courses daily. Be first to know about new free courses to the hottest topics.

Search by keyword, category, subcategory, topic or author for the free courses you need right now.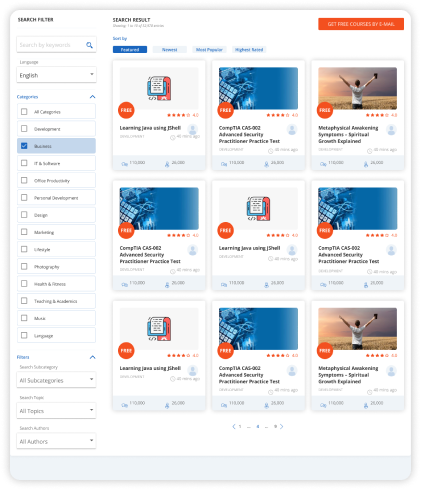 Course Coupons - Be first to have exclusive access to the newest course coupons.
All free courses and coupons! Get immediate access to almost 200 valid Udemy coupons.

Select from various discount levels where almost 300 coupons are 100% coupons and totally free.

Get new coupons every day and be first to get them. Coupons last only 3 days and our public page won't even show many of those.

Search by keyword, category, subcategory, topic or author for the Udemy coupons for courses you need right now.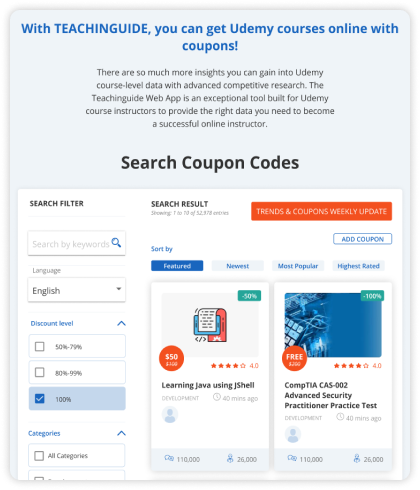 Weekly Hottest Emails - Stay up to date for courses in your area of interest.
Get the newest free courses in your inbox every week. Select your categories and language and get access right away.

Get updates on weekly coupons and don't miss opportunities to learn from great courses for less money.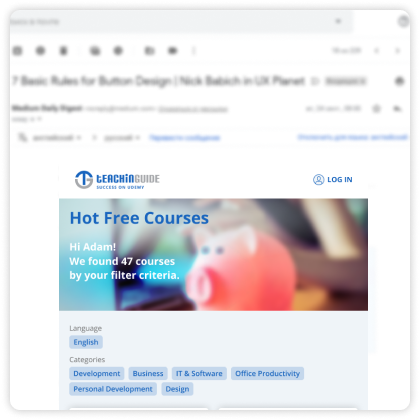 Full Course Database - Have access to all Udemy courses and find the best topics to learn.
Have access to our full course database including not only free and coupon support courses, but all of them.

Chose from over 100'000 courses by all kinds of filters and our calculated measures on enrollments, engagement, ranks and other metrics.

Use our subcategory browser and our topic research module to identify your next area of study focus.

Find the most famouse and trending instructors in our instructor directory and get all their courses.

Stop wasting months by investing in the wrong courses to learn and be ahead in your field.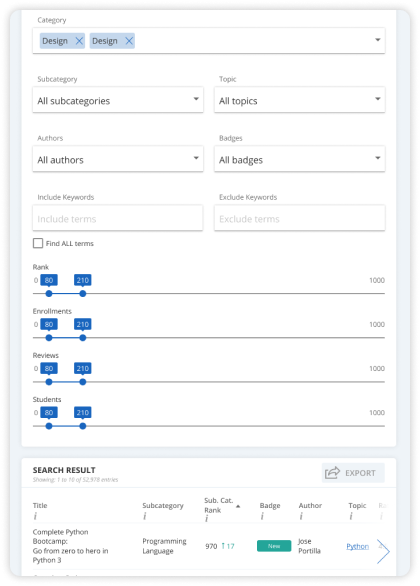 Choose your plan to access all free courses and coupons directly.
Risk Free. 100% Money back guarantee. Upgrade any time.
Learning & Trends
Newest Free Courses Weekly
Research App
Start
All free courses and Coupons.
$1.99/month
-
-
-
-
-
$9.99/month
-
-
$14.99/month