Benefits
Dashboards
Monitor the Competition
Course Rankings
Review Management
Coupon Promotion
Research Database
Dashboards
What gets measured, gets done.
Core to the Teachinguide Instuctor App are its Key Performance Indicator Dashboards.

Regular measurement and reporting keeps you focused on your key metrics.

You dont loose sight and see impact on your course business instantly.

Report easily for you and your partners and export data on instructor and course level.
Monitor the Competition
Identify threats and learn what works best teaching online.
While you might have some figures on your own courses, getting insights on other instructors and their courses is much harder.

We made it very easy for you to add competing courses to your dashboard monitor and get deep insights about your competition.

Understand their promotional activities, their backlinks and how fast they are acquiring reviews and new students.

Get that competitive edge to accelerate your course business.
Course Rankings
Ranking high online is essential for your success.
Still by far the most student traffic and enrollments come from online research.

So ranking high for various subcategories, topics and high volume keyword searches is paramount.

The Teachinguide keyword ranking not only helps you on identifying the right keywords, but also on how to utilize those keywords and to climb the ranks fast.
Review Management
Reviews are the fuel for rankings, make them count for you.
Make your customers happy and react to negative reviews instantly.

Sort your reviews by their impact on your average star rating, and prioritize your response rate accordingly.

Get notified instantly for new student reviews you receive on Udemy.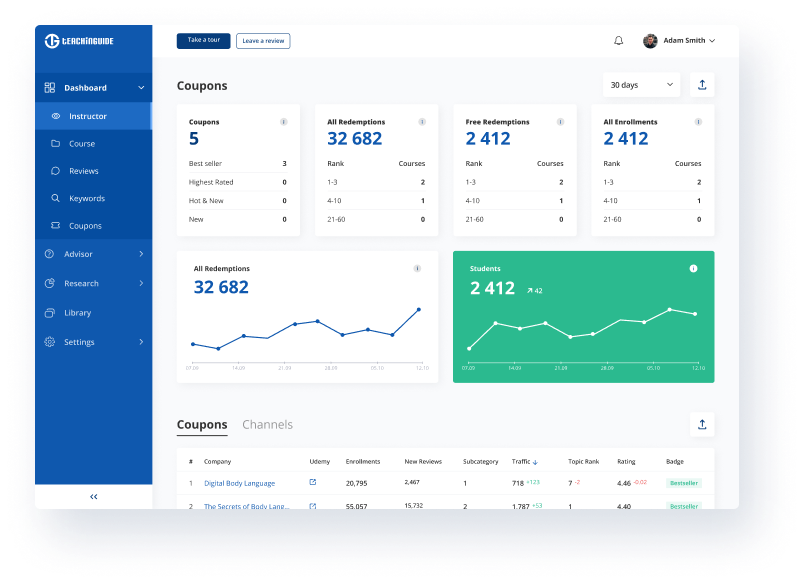 Coupon Promotion
Fuel your student and review acuisition.
You can increase your course sales by enrolling students much faster with our coupon tactics.

Jumpstarting new and existing courses with Teachinguide "Featured Coupons" to thousands of students weekly with priority.

Monitor all your coupons on a daily basis for traction and availability.

Get the very best channels from Teachinguide to promote your coupons in.
Research Database
Have the most exclusive Udemy database at your fingertips.
We compiled the most comprehensive and one of a kind database for research on Udemy.

Analyze over 100'000 courses by all kinds of filters and our calculcated measures on enrollments, engagement, ranks and other metrics.

Use our subcategory browser and our topic research modul to identify your next niche to create courses on.

You can validate demand vs. competition, see trends on Udemy and use the calculated opportunity score to identify potentials.

Our comprehensive keywords database gives you quick insights on the most frequent used terms and their trends on Udemy and Google.

Stop wasting months by investing in the wrong course topics without demand or unbeatable competition.
Achieve success teaching online.
Risk Free. 100% Money back guarantee. Upgrade any time.
Launch
$14.99
/month
$149.99/year
Grow
$19.99
/month
$199.99/year
Scale Up
$79.99
/month
$799.99/year
Become an Instructor
Build a course business in the shortest time